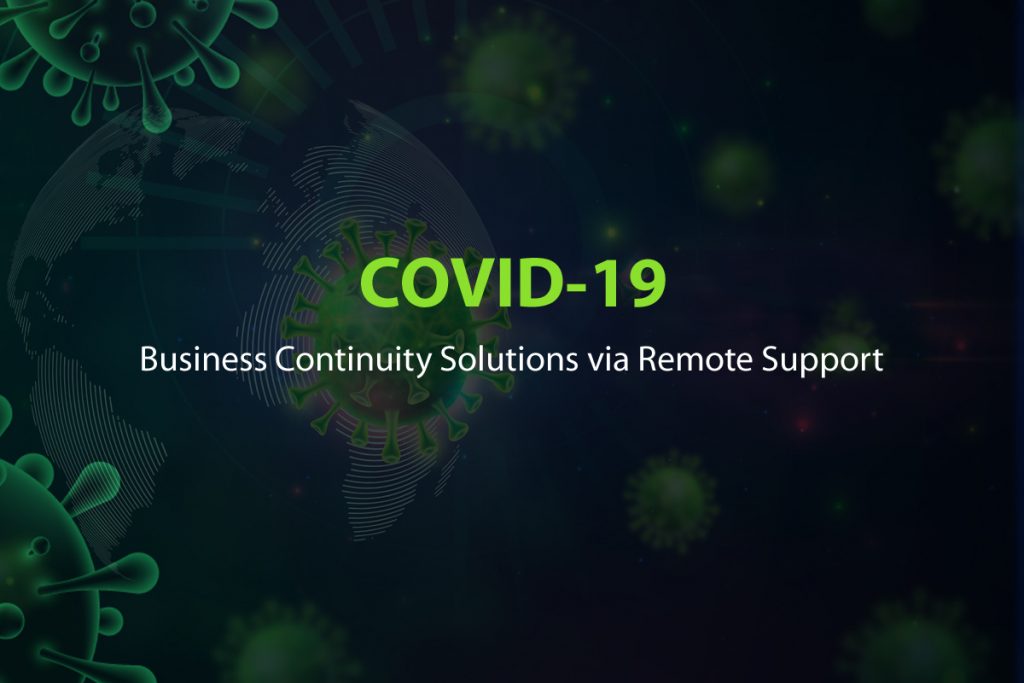 Do you have a detailed plan to help your organization navigate operational and technical challenges during unplanned events such as COVID-19 to stay online and deliver products and services like IT, sales and support during these disruptive events? If not, you should act now.
Well, Business Continuity Plans are more than just what you think from IT plans or disaster recovery plans rather it also includes personnel, facilities, services, external vendors, and business processes.
Some of you may find it difficult to support your customers, for them outsourcing your IT with a remote IT support company will fix this issue. But choose the right outsource support. If you are looking for one, we could come in need of you, so take a glance at our Emergency Response Team.
In order to ensure your business continues to work like normal, you need to ensure few things like: Protect all your endpoints to access your organizational assets remotely, increase connectivity, with a VPN, or a remote desktop solution you can work effortlessly. Let's see the major areas you need to concentrate on.
Downtime Impact
Having a Business Continuity plan is a proactive way to avoid unnecessary downtime due to a disaster, human error, or security breach. Most businesses will experience downtime at some point due to a variety of reasons.
A few backup and disaster recovery benefits to save businesses from downtime during COVID-19:
Maintain employee productivity and the ability to generate business revenue
When an organization cannot run the business, as usual, they lose money. A backup and disaster recovery ensures that businesses remain productive after disruption or disaster so that they can serve their customers and generate revenue.
Meet obligations with clients
Downtime could lead to inefficiency for the organization to meet certain deadlines or contractual agreements. For instance, If a company experience downtime a day before the deadline to file taxes, then the organization could end up with sue for failing to render services. Even after the disaster, a backup and disaster recovery ensures that businesses meet critical deadlines.
Employee & Client Communications
You need to consider how you are going to get your employees on their feet and protect your business during this pandemic outbreak.
A communications procedure details how information is circulated immediately and followed during this disruptive event, even after it has been resolved. Tighten your email confidentiality and security policies to avoid data breaches.
Approach to be followed:
Mode of communication (e.g., phone, email, text messages)
Point of contact (e.g., managers, team leaders, human resources) responsible to communicate with employees.
System of contacting employee family members, media, government regulators, etc.
Some require VPN for a virtual desktop environment, as it is controlled by corporate servers making them secure and simple to distribute. If you are looking for a VPN configuration, do let us know we can help you.
During this COVID-19 crisis you need to ensure your customers, how you are going to communicate to them for any changes related to billing and payment procedures. So ensure that you provide secure communication for your clients.
For example: You can communicate via registered mail.
At the end of all these it is how effectively you and your team respond and recover. It is always wise to have a Business Continuity Plan in place and act before everything run's out of your hand.
Let's successfully address the disruption that comes across and win this battle with robust remote worker capabilities.
If you are looking for any assistance to support your remote workers, Contact us and we will be ready to provide the assistance we can.
Join us for the latest updates: Facebook, Twitter & LinkedIn
Subscribe to get free blog content to your Inbox