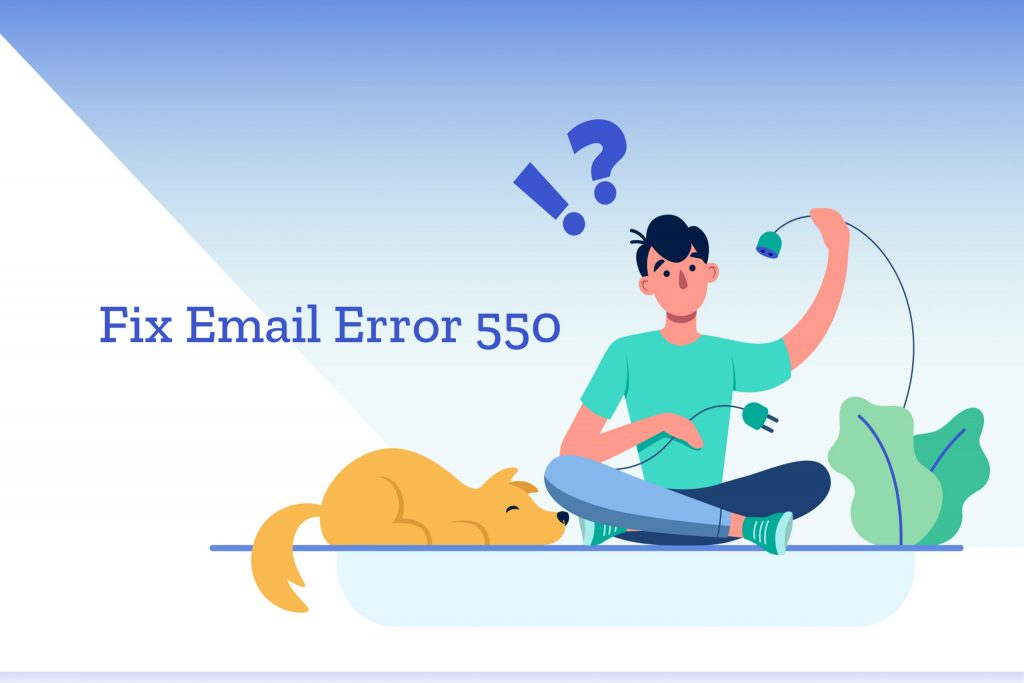 You come across the email error 550 when an email address you used could not be verified by the destination mail server or it can be a firewall issue. So let's first see what you need to check at first to fix error 550.
Few of the reasons that can cause the error are:
The recipient's email address might not exist
Incorrect email address of the recipient
Incorrect SMTP Server settings
Sometimes the recipient's mail server might mistake it as a spam
The recipient's mail server failed to identify your email address
Now let's start to fix the email error 550.
Verify your email address typos
Typos in email addresses might cause Email Error 550. Ensure that the email address you entered is valid, with no additional spaces or misspellings. There is also the possibility that the recipient provided you with the incorrect email address. Moreover, confirm with them.
In addition, confirm that your email address is accurate and that your email has content. Some mail servers will reject an email that contains no content.
Check the email IP is blacklisted
Most of your emails will bounce if your email IP is blacklisted in a DNS blacklist.
If your email IP address is blacklisted, it signifies one of two factors:
Someone exploited a vulnerability in the webmail application and is sending a spam script into it.
Someone has gained access to your email account and is using it to send spam messages.
In addition, different blacklist databases use different criteria to flag an email IP. As a result, it is important to locate the database and analyze your alternatives.
Send an email after sometime
It is possible that the recipient's server is temporarily down owing to a variety of reasons. Inform the recipient that the server may be down and request an alternate email address or wait a few minutes before trying again.
Change your outgoing mail port
As spammers frequently use port 25 to transmit spam messages, servers may block your email if your email applications use it as an outgoing mail port. Change your port to 26, 465, 587, or 2525 and then check what happens. If you're using a firewall, you'll need to confirm the port change before allowing traffic to pass.
Ensure IP filtering is enabled
Your SMTP server may be configured to authorize users only from a certain range of IP addresses. If this is the case, you will be unable to send messages from other places. You may easily fix this by contacting your mail server's administrator.
SMTP authentication enabled
SMTP authentication is enabled automatically in most email applications. If the application fails to activate it, you will be unable to send emails.
Follow these steps, if you're using Mozilla Thunderbird:
Click Tools and select settings from the main menu.
Below settings, choose Outgoing Server (SMTP) and Edit.
Select the SMTP server you want to configure and then click Edit.
Finally, verify or add your username and password and click Ok.
Follow these steps, if you're using Outlook:
Click File>Account setting.
Verify and choose your email under the Email Tab, then click the Change icon to the right of it. The Internet Email Settings window appears.
Click the Outgoing Server Tab.
Then, ensure "My outgoing server (SMTP) requires authentication" the box is ticked and "Use same settings as my incoming mail server" is selected.
Click the ok and Finish button.
Note: The methods for enabling SMTP authentication will vary based on the email application you use.
Troubleshoot & Verify the SSL method
If you are setting up SMTP manually there are different combinations of SSL available, Like:
None
STARTTLS
SSL/TLS
Some of them use the auto-detect feature to set up SMTP. If you want to set it up manually, then you got to verify the SSL method used by the SMTP server and configure the email client subsequently.
If this doesn't fix your issue then you can try contacting your Internet Service Provider for support, sometimes your ISP's filtering system might block your email.
There are many ways where you can prevent the email error 550 from occurring:
You can set up anti-spam systems to scan outgoing emails as spammers might use your email to send spam messages. It is advisable to scan your file upload for any malware effect
Another way to prevent email error 550 is to limit your email send in an hour and keep updating your password consistently.
Hope this helped you to know the cause and ways to fix the email error 550. Check out the Email alert! when someone logs into your server as root
To get updates follow us on Facebook, Twitter, LinkedIn
Subscribe to get free blog content to your Inbox